Welcome to Away Wiki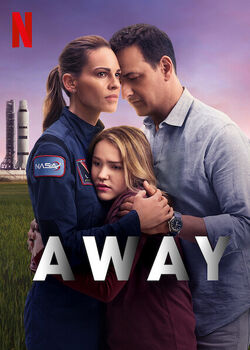 Away
is a Netflix original
science fiction drama TV series
starring two-time Academy Award winner
Hilary Swank
.
As American astronaut Emma Green (Swank) prepares to lead an international crew on the first mission to Mars, she must reconcile her decision to leave behind her husband, Matt (Josh Charles), as well as her teenage daughter, Alexis (Talitha Bateman) when they need her the most.
As the crew's journey into space intensifies, their personal dynamics and the effects of being away from their loved ones back on Earth become increasingly complex. Away shows that sometimes to reach for the stars, we must leave home behind.
Away
became available on Netflix on September 4, 2020 worldwide.
About Away Wiki
We're an online, collaborative encyclopedia, with the goal of documenting everything there is to know about Away: characters, episodes, all aspects of the mission to Mars, and more.
With your help, we can kick start a comprehensive and informative resource about the show. Feel free to browse our content and see if there is a page you can help us with!